Titanomachia 1/12 Strato Hound
Titanomachia 1/12 Strato Hound

Products shown in photos may have been professionally painted or computer rendered images. They may differ from the actual product.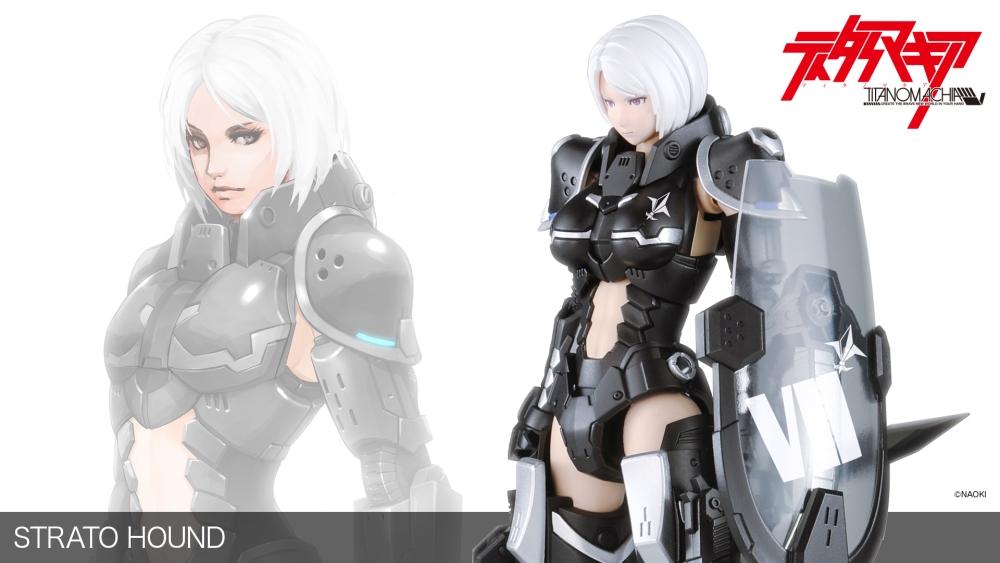 The second model kit in the action figure line of TITANOMACHIA is the female exosuit, STRATO HOUND!
TITANOMACHIA is an original plastic model kit series by famed modeler, designer, and producer NAOKI.
The SIDE:ES (EXOSKELETON) line of the series features 1/12 scale male and female armored exoskeleton suits.
The next kit to join this line is the long-awaited female exoskeleton suit, STRATO HOUND!
Model Specifications:
?Utilizing his experience as a modeler, NAOKI produces both a sleek model design and an excellent action figure. This model includes various features such as sliding thigh armor and independently articulated shoulder armor that allow the arms to move freely. Users are able to recreate graceful and dynamic poses that highlight the model's tall and slender proportions.
?The 3mm hard points on the body allows for customization with parts from the TITANOMACHIA series, M.S.G series, and other original plastic model kit series by Kotobukiya.
?The Doppeladler—a collapsible, compound CQC weapon—features a physical blade and a beam sword recreated with clear parts. The grips for two-handed stances are adjustable so the weapon can be posed in various ways. It can also be converted into a compact form and equipped to various hard points.
?Includes two Basilisk hand blasters. They can be carried in the left and right holsters which can be attached to hard points.
?The shield, Belladonna, uses clear parts for the protective plating. The shield can be positioned by adjusting the grip.
?Includes eight PVC hands (left and right hands for closed, open, weapon holding, and gun holding positions). The weapon holding hands have the same specifications as the M.S.G series allowing for items to be held.
?Includes a head with and without a helmet for more display options.
?The precise color-coding of each part, multi-colored plastic, and pre-painted clear parts allow users to recreate the model just by assembling it.
?Includes decals for the eyes and other original designs.
Story:
600 years ago, a group of meteorites rained down upon the planet, destroying its crust and causing catastrophes on a global scale.
Following this cataclysmic event, the world's powers concentrated into the Feyetoll Empire—the single largest global superpower that rose to prominence in the aftermath of the wars that took place during the planet's restoration—and the Waise Federation, which was formed in defiance of Feyetoll.
Then, out of the burnt remnants of the meteorites that nearly caused the complete destruction of the planet, a new type of energy that would replace the already depleted fossil fuels was discovered. War once again erupted among the powers as they scrambled to take control of this new energy source. However, strange beings called cryptids began to rise forth from meteorite excavation sites around the world.
To exterminate these cryptids and combat rival powers, humanity developed REAPER and GRIM REAPER—all-purpose humanoid weapons powered by JUNGFRAU UNITS—and EXOSKELETON, a reinforced power suit worn by humans. They soon took over the battlefield.
Soldiers fight for honor and pride of their country.
Mercenaries fight with faith in their own knowledge and strength.
Men shout out cries of valor.
Women dance with grace.
For hope. For ambition. For revenge. For love.
Upon their sworn oaths, mortals mobilize giants while others clad themselves in armor.
TITANOMACHIA
CREATE THE BRAVE NEW WORLD IN YOUR HANDS.
STRATO HOUND Backstory:
STRATO HOUND is a representative exoskeleton developed by Graciez and part of the Hound series. This suit has a lightweight design that is specialized for high-speed?close-quarters combat. The expansion hard points have the same specifications of GALE HOUND, making all equipment compatible with STRATO HOUND.
One of the most popular weapons used by Balmung, wearers of the STRATO HOUND suit, is the Doppeladler, a collapsible, compound CQC weapon made by Vector Hyde.
The weapon is highly compatible with the suit due to its lightweight, compact, and storable qualities and ability to use both its physical blade and beam sword in a single swing.
Additional weapons include the Basilisk hand blasters made by Graciez, the developer of the suit. Despite their light weight allowing them to be used even without the suit's support, they have extremely high firepower. They can be used to not only contain cryptids but also serve as main weapons.
The portable shield, Belladonna, has a protective surface made of reinforced lightweight plastic. As it does not obstruct the user's vision, it is also effective for ramming.
Additional information
| | |
| --- | --- |
| Weight | 0.6 kg |
| Dimensions | 33 × 22 × 12 cm |
| Release Date | |
| Series | Titanomachia |
| Product Type | |
| Scale | |
| Height | Approx. 160mm |
| Suitabe Age | |
| Assembly | Assembly required. Snap together, no glue required. |
Terms of Pre-Order
Pre-orders require us to commit to an order with a specific manufacturer which we are then liable for. If you place a pre-order, the deposit required to place a pre-order is non-refundable, should you choose to cancel. The only exceptions to this are:
The item is cancelled by manufacturer due to shortage in supply.
The price quoted on your order is going to change by more than 10% when the item arrives.
ETA's can vary and are not guaranteed arrival date. We list the date given by manufacturer, but delays can and do happen. We cannot cancel your pre-order, even if delays are substantial, please take this into account when ordering.
Balance of pre-orders must be settled within 30 days of the product coming into stock. Failure to settle within this period may mean you lose your deposit and pre-ordered item.
Prices quoted can be subject to change as items are only billed by manufacturers when they ship to us. We do everything we can to give you an accurate buy price, but pre-orders that are far away can vary in price if exchange rate varies from now until then.
Postage fees can also vary depending on the size of the product, type of shipping and number of boxes required. We suggest you pre-order each item individually and choose virtual warehouse handling.
Why pre-order?
Many items are produced in limited quantities. Pre-Ordering looks to ensure that you get one of the limited numbers produced.
What happens when I pre-order?
Upon receiving your pre-order, we will place an order with the appropriate distributor for your item. The distributor in turn places the order with the manufacturer who then ensure that the item is shipped to the distributor when it's ready. This means we are liable for the order from that point which is why we charge you a deposit to ensure you're serious on purchasing the item.
Why are some pre-order arrival dates so far away?
A number of manufacturers produce items in batches according to demand. The manufacturing process takes considerable time as the items are often hand painted.
What if I change my mind and want to cancel?
Should you wish to cancel your pre-order you can do so, but you will lose either the deposit you paid, or if you paid in full, 10% of the expected guide price of the item. The reason for this is we will have placed an order for your item and we are liable for it.
Is the price you list the final price I will pay?
Most of the time, the guide price will be correct. But as we buy most pre-orders in from abroad, the price can vary due to exchange rate variance. When the item is ready to ship from the distributor, we will inform you of any price changes. If prices have risen by over 10%, you have the right to cancel order if you so wish and we will return your deposit.
Are pre-orders guaranteed to arrive?
Most of the time they are pretty reliable. However, sometimes the manufacturer can run into production or licensing problems and occasionally items are cancelled either temporarily or permanently. If this happens we will refund your deposit.
What happens when my pre-order comes into stock?
When your item comes into stock you have 30 days to pay the remaining amount due or risk losing your pre-order and deposit.